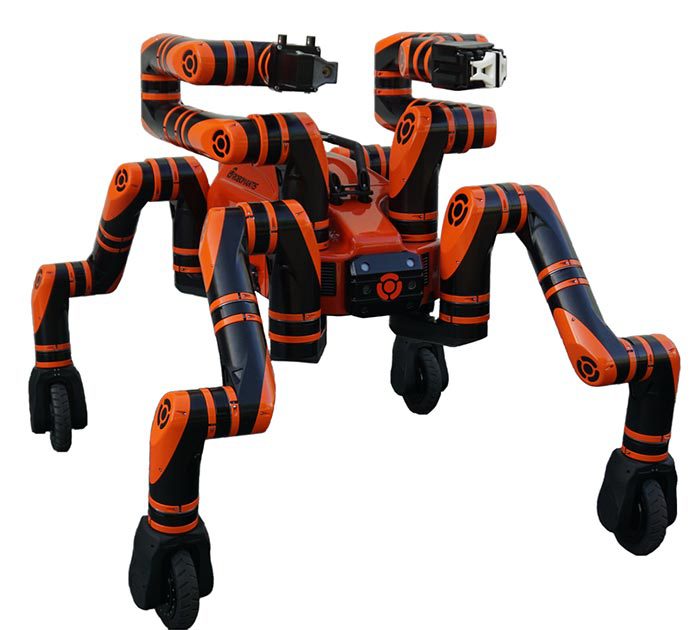 Advanced Robotics For
Modern Ground Missions
Extend your ground capabilities and reach with RoboMantis, a modular robotic system from Motiv.
Built to perform tasks with the strength and precision of a robot on a human scale, Motiv's RoboMantis is designed specifically for ground missions where flexible mobility and precise manipulation are critical. Completely modular and semi-autonomous, RoboMantis allows for mission-specific tasks to be completed in minutes, even in dangerous, uncertain areas. With a flexible, open architecture design, RoboMantis can extend its reach across the broadest of mission profiles, from industrial to academic applications.
Designed to go where humans can't, RobotMantis is made to operate in hazardous, hard-to-reach environments.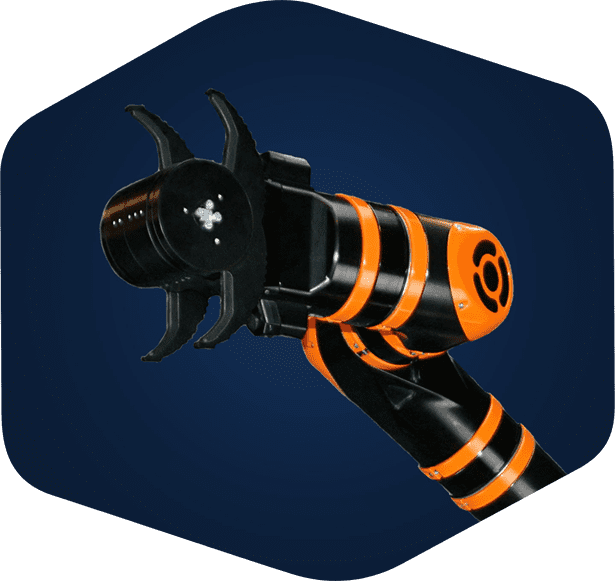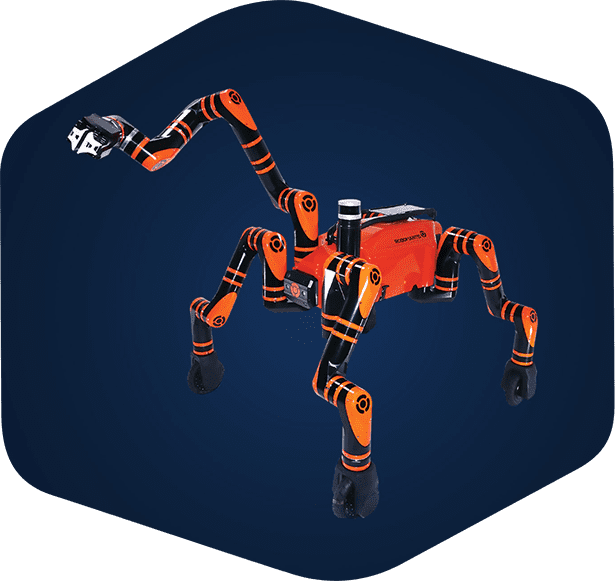 The Ultimate In
Robotic Functionality
With extreme modularity and a host of innovative capabilities, RoboMantis can tackle everything from defense to mining and beyond.
Individual Legs
This is stability in the extreme. Built with four individual limbs, RoboMantis's legs come equipped with a wheel on each foot, dedicated exclusively to advanced mobility.
Arms
With options for one or two additional arms (depending on the model), RobotMantis's arms are extremely capable, amazingly flexible, and fully customizable. Hand-like manipulators mounted to the arms provide dexterity and gripping strength, allowing RoboMantis to complete a wide range of tasks.
CamHand
The CamHand is a no-nonsense gripper with scissoring fingers that allows RoboMantis to carry heavy loads, perform precise movements, and even climb a ladder. Its four fingers are also completely customizable for your specific application.
Stereo Cameras
Three sets of stereo cameras are mounted at one end of RoboMantis's torso, while two more sets of cameras sit on its underside, with additional cameras on each side. These stereo cameras, coupled with LIDAR sensors, provide wraparound vision, creating a 3D image to help the robot move about.
LIDAR Sensors
Spinning constantly, LIDAR sensors use reflected laser signals to accurately map the space around RoboMantis, acting as part of the robot's wraparound vision and providing excellent mapping abilities.
Onboard Computing Capacity
This feature enables RoboMantis to operate in network-denied locations, while an advanced GPU enables rapid SLAM operations as well as template-based semi-autonomous task execution.
High-Performance Actuators
Coupled with near real-time control, RoboMantis's high-performance actuators power the robot's joints at an even higher torque than other models.
Near Real-Time Control
RoboMantis's near-real-time control means that teleoperation or automated tasks are simpler than ever to implement, with the ability to easily perform complex tasks in structured and unstructured environments.
Degrees of Freedom
Engineered with dozens of degrees of freedom, RoboMantis's joints provide it unprecedented modularity and flexibility.
Actin Software Development Kit
The Actin Software Development Kit (SDK) makes it even easier for robotics developers to create and implement improved robotic tasks, allowing for more open source solutions, more quickly – and at a lower cost.
The Next Generation
Of Ground Robotics
Leveraging NASA technology, RoboMantis provides an upgrade to a ground-capable configuration.
Based heavily on NASA JPL's RoboSimian system, Motiv's RoboMantis represents an updated version of the robot. Keeping many of JPL's original themes such as stability and sensors, RoboMantis brings in new systems, components, and software to an already capable system. With increased computational ability, improved modules, powerful actuators, and military-grade lithium-ion batteries, RoboMantis provides enhanced capabilities for any ground mission.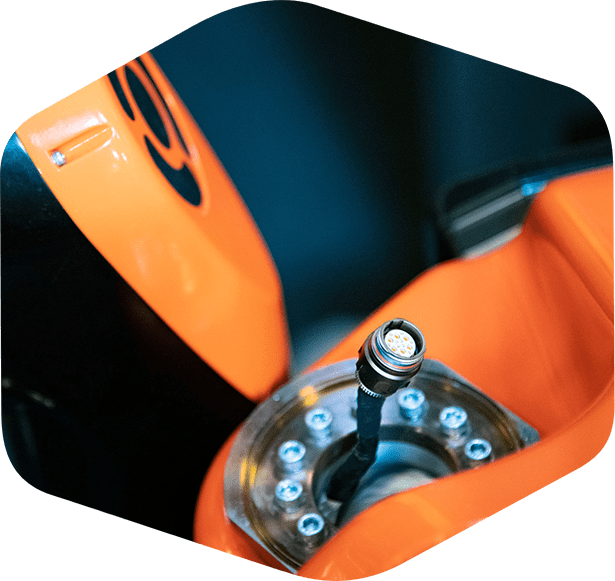 Power Your Mission With Motiv
Get in touch to learn more about how RoboMantis can support your next project.